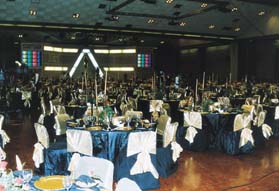 One of the largest subdividable complexes in Gauteng with seating for up to 2000 people.


A Choice of two stages with theatre facilities; main hall subdivided into 3 sections; gallery seats 150; auditorium seats 88; conference room seats 60; exhibition area. Auditorium has lectern, big screen TV, state of the art overhead and data projectors, white-board as well as 2 slide projectors, recording facilities and entertainment area, the main hall has screens, and lectern; conference room has overhead projector and TV/video, good loudspeakers in all venues, library and press facilities.


20 minutes driving from Johannesburg; south of Johannesburg; just off the N3 Johannesburg / Durban highway and the N12 Johannesburg / Kimberley highway; to Johannesburg / Vereeniging highway.