KIEVITS KROON COUNTRY ESTATE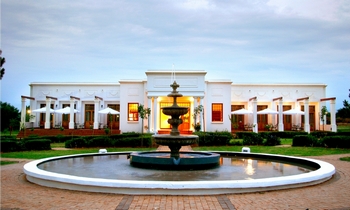 Kievits Kroon is an award-winning country estate just 45 minutes from Sandton.

We can assist with any type of forum - conferences, board meetings, strategy, training or brainstorming sessions. We are recognised as one of the top conferencing venues in Pretoria and Gauteng and were recently nominated one of Africa's Leading Meetings and Conference Hotels by the internationally recognised World Travel Awards.

Facilities include 17 conference rooms for 10 to 120 delegates, 142 elegant hotel rooms, a 16-seater executive boardroom and a Business Centre. Superior technical equipment is available. The estate is well known for its superb Winelands Spa and Kingsley's buffet restaurant.

We tailor-make all conference packages to suit the organisation's individual requirements. Packages include a dedicated conference host, standard audio-visual equipment and complimentary Wi-Fi for delegates.
Accommodation
| | | |
| --- | --- | --- |
| | Single: | |
| | Double: | 136 |
| | Suites & Other: | 8 |
| | Total | 142 |
Seating Capacities
Room Name
U-Shape
School Room
Theatre
Banquet
Boschendal
54
90
128
80
Buitenverwachting/Constantia
30
60
100
60
De Kasteel Full
400
300
De Kasteel Half
80
150
250
150
De Kasteel Quarter
40
70
100
70
Here XVII (Boardroom 16)
Kanonkop/Kleine Zalze
20
18
40
30
Meerlust/La Motte
10
10
10
10
Rust en Vrede/Uitzicht
20
18
40
30
Simonsig/Morgenhof
8
8
8
8
Uiterwyk 1/Uiterwyk 2
8
8
10
10
Vergelegen/Zevenwacht
10
10
20
10
Zandvliet
8
8
12
10
Room Dimensions & Area
Room Name
Length
Width
Height
m²
Boschendal
18.3
6.9
126
Buitenverwachting/Constantia
15
7.8
3
118
De Kasteel Full
35
17.5
4
613
De Kasteel Half
17.5
17.5
4
306
De Kasteel Quarter
17.5
8.8
4
154
Here XVII (Boardroom 16)
9
7.8
4
70
Kanonkop/Kleine Zalze
10.5
7.8
6
70
Meerlust/La Motte
5.1
3.6
18
Rust en Vrede/Uitzicht
9.4
6.47
4
1
Simonsig/Morgenhof
3.4
3.2
11
Uiterwyk 1/Uiterwyk 2
5.6
4.6
4
26
Vergelegen/Zevenwacht
5.6
6
4
34
Zandvliet
5.2
4.6
4
24
Lighting Facilities
Room Name
Controls
Dimmers
Windows
Blackout
Boschendal
Y
Y
Y
Y
Buitenverwachting/Constantia
Y
Y
Y
Y
De Kasteel Full
Y
Y
Y
Y
De Kasteel Half
Y
Y
Y
Y
De Kasteel Quarter
Y
Y
Y
Y
Here XVII (Boardroom 16)
Y
Y
Y
Y
Kanonkop/Kleine Zalze
Y
Y
Y
Meerlust/La Motte
Y
Y
Y
Y
Rust en Vrede/Uitzicht
Y
Y
Y
Simonsig/Morgenhof
Y
Y
Y
Y
Uiterwyk 1/Uiterwyk 2
Y
Y
Y
Y
Vergelegen/Zevenwacht
Y
Y
Y
Zandvliet
Y
Y
Y
Power, Doors & Screens
Room Name
Power
Sockets
Door
Height
Door
Width
Screen
Height
Screen
Width
Boschendal
1.5
1.97
2.4
1.8
Buitenverwachting/Constantia
1.5
1.97
2.4
1.8
De Kasteel Full
2.4
1.8
De Kasteel Half
2.4
1.8
De Kasteel Quarter
2.4
1.8
Here XVII (Boardroom 16)
1.5
1.97
2.4
1.8
Kanonkop/Kleine Zalze
1.5
1.97
2.4
1.8
Meerlust/La Motte
1.5
1.97
2.4
1.8
Rust en Vrede/Uitzicht
1.5
1.97
2.4
1.8
Simonsig/Morgenhof
1.5
1.97
2.4
1.8
Uiterwyk 1/Uiterwyk 2
1.5
1.97
Vergelegen/Zevenwacht
1.5
1.97
2.4
1.8
Zandvliet
1.5
1.97
2.4
1.8
Venue Category
Bed & Breakfast
Country Venue
Day Conference Venue
Function Venue
Restaurant
Wedding Venue

Conference Equipment
Data Projector
Flip Chart
Overhead Projector
Public Address System
Screens
Television/Video
Video Conferencing
White Board
WiFi/Internet

Leisure


Beauty Therapy
Bird Watching
Game Drives
Golf
Horse Riding/Safaris
Hydro/Spa/Wellness Centre
Sauna
Swimming

Travel


Car Hire
Helicopter Pad
Hotel Transport

Additional


Disabled Friendly
Malaria Free
Power Generator
Secure Parking