GALLAGHER CONVENTION CENTRE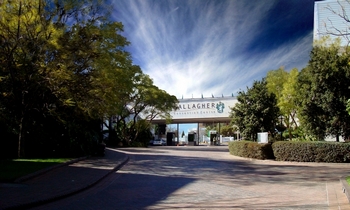 'There is nothing mysterious about originality. Nothing fantastic. Originality is merely one step beyond' By Louis Danz.


Completely different from any venue you've ever been to before, Gallagher Convention Centre holds the promise of making your conference or function a complete success. Some of the venues promise a room with a view - looking out onto lush gardens, while others offer the most advanced communications facilities available - And those are just some of the features you'll find at Gallagher Convention Centre...


This refreshing, captivating venue offers parallel conference sessions, breakaway rooms, registration and refreshment areas as well as expert technical back-up for all presentation equipment.


Gallagher Convention Centre can accommodate from 2 to 12000 delegates at any one time, in comfort and style.


A team of internationally acclaimed chefs cater to suit every taste and culture, which includes an Halaal kitchen certified by the National Independent Halaal Trust (NIHT). In addition, a wide variety of accommodation is available in close proximity to the Convention Centre.
Accommodation
| | | |
| --- | --- | --- |
| | Single: | |
| | Double: | |
| | Suites & Other: | |
| | Total | |
Seating Capacities
Room Name
U-Shape
School Room
Theatre
Banquet
Auditorium
250
400
184
Ballroom
600
1500
600
Boardroom 1
10
30
10
Boardroom 2
30
60
40
Boardroom 2 B
10
30
10
Boardroom 2A
10
30
10
Boardroom 3
16
20
20
Boardroom 4
20
30
20
Estate Restaurant
800
1500
500
Exhibition Restaurant
350
600
500
Gallagher 1 or 2
30
50
100
60
Gallagher 3
80
100
220
120
Gallagher 3A or 3B
40
50
100
60
Gallagher Grill
120
200
400
220
Gallagher Grill A
120
250
100
Gallagher Grill B
60
80
60
Gazebo (octagonal)
Hall 1
1500
2500
940
Hall 2
2500
5000
2000
Hall 3
2500
5000
1800
Hall 4
800
1500
800
Hall 5
3000
5000
3000
Koi Deck
Lotus 2
85
150
80
Lotus 2A
Lotus 2B
Lotus 3
Marquee
100
100
Wine Cellar
Room Dimensions & Area
Room Name
Length
Width
Height
m²
Auditorium
47.7
22
2.6
1049
Ballroom
38
30
6
1140
Boardroom 1
6.3
6.2
3
39.06
Boardroom 2
5.6
11.6
2.7
65
Boardroom 2 B
5.6
5.6
2.7
31.36
Boardroom 2A
6
5.6
33.6
2.7
Boardroom 3
8
4.3
2.7
34.4
Boardroom 4
5.3
9.4
2.7
50
Estate Restaurant
60
22.5
-2.3
1259
Exhibition Restaurant
39
23.5
3.5
1005
Gallagher 1 or 2
13
7.5
3.4
97.5
Gallagher 3
18.9
12.1
4.7
229
Gallagher 3A or 3B
12.1
10.2
4.7
105.3
Gallagher Grill
25.2
15.8
3.4
398.6
Gallagher Grill A
17.5
15.8
3.4
276.5
Gallagher Grill B
7.7
15.8
3.4
121.66
Gazebo (octagonal)
2.5
6
-1.5
32
Hall 1
80.6
50.2
4.9
3871
Hall 2
107.9
61.5
-2.3
6125
Hall 3
105.6
53
1.7
5178
Hall 4
55
44.5
-5.7
2520
Hall 5
142.76
51.78
-1.9
6600
Koi Deck
17.5
9.1
-1.5
159
Lotus 2
14.6
9.1
3.8
133
Lotus 2A
9.1
7.3
3.8
66.43
Lotus 2B
9.1
7.3
3.8
66.43
Lotus 3
7.3
6.7
2.8
48.91
Marquee
9
18
-1.5
162
Wine Cellar
6.9
7.3
2.8
50.37
Lighting Facilities
Room Name
Controls&nbsp
Dimmers&nbsp
Windows&nbsp
Blackout&nbsp
Auditorium
Ballroom
Y
Y
Y
Boardroom 1
Y
Y
Y
Boardroom 2
Boardroom 2 B
Boardroom 2A
Boardroom 3
Boardroom 4
Estate Restaurant
Exhibition Restaurant
Gallagher 1 or 2
Gallagher 3
Y
Y
Y
Y
Gallagher 3A or 3B
Y
Y
Y
Y
Gallagher Grill
Y
Y
Y
Y
Gallagher Grill A
Y
Y
Y
Y
Gallagher Grill B
Gazebo (octagonal)
Hall 1
Hall 2
Y
Y
Y
Hall 3
Y
Y
Y
Hall 4
Y
Y
Y
Hall 5
Y
Y
Y
Koi Deck
Y
Y
Y
Lotus 2
Lotus 2A
Y
Y
Y
Y
Lotus 2B
Lotus 3
Marquee
Wine Cellar
Power, Doors & Screens
Room Name
Power
Sockets
Door
Height
Door
Width
Screen
Height
Screen
Width
Auditorium
Ballroom
39
2.63
1.2
Boardroom 1
26
2
0.96
Boardroom 2
Boardroom 2 B
Boardroom 2A
Boardroom 3
Boardroom 4
Estate Restaurant
Exhibition Restaurant
Gallagher 1 or 2
Gallagher 3
7
2.59
1.45
3.6
4.24
Gallagher 3A or 3B
11
2.56
1.47
2.99
4.24
Gallagher Grill
6
2.59
1.45
2.99
4.18
Gallagher Grill A
6
2.61
0.93
2.99
4.18
Gallagher Grill B
Gazebo (octagonal)
Hall 1
Hall 2
80
5
5
Hall 3
100
5
5
Hall 4
100
5
5
Hall 5
73
3.5
4.2
Koi Deck
100
5
5
Lotus 2
Lotus 2A
8
Lotus 2B
Lotus 3
Marquee
Wine Cellar
Venue Category
Airport Hotel
Arena
Auditorium
Bed & Breakfast
City Conference Venue
City Hotel
Computer Training Facility
Corporate Facility
Day Conference Venue
Educational Establishment
Expo Centre
Farm Venue
Function Venue
Guest Houses & Lodges
Resort Hotel
Restaurant
Self Catering
Stadium
Team Building Venue
Tented Camp
Theatre
Training Facility
Wedding Venue

Conference Equipment
Data Projector
Flip Chart
Lectern
Overhead Projector
Public Address System
Screens
Television/Video
Translation Facilities
Video Conferencing
White Board
WiFi/Internet

Leisure


4x4 Adventure / Course
Action Cricket
Archery
Beauty Therapy
Bird Watching
Clay pigeon shooting
Go-karting
Golf
Gym
Horse Riding/Safaris
Hydro/Spa/Wellness Centre
Quad Bikes
Sauna
Squash
Tennis
Tribal Culture
Volley Ball
Wine Tasting

Travel


Airport Nearby
Airstrip
Car Hire
Helicopter Pad
Hotel Transport
Limousine Service
Taxi Service
Travel Reservations

Additional


Baby Sitting
BEE Compliant
Children Friendly
Disabled Friendly
Exhibition Area
Malaria Free
Power Generator
Satelite TV
Secure Parking
Special Equipment Entrance