BIRCHWOOD HOTEL & OR TAMBO CONFERENCE CENTRE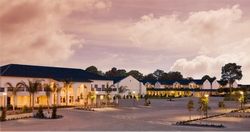 Why host your next conference at Birchwood Hotel & OR Tambo Conference Centre? The answer is simple - our range of venues and facilities is simply unrivalled!

With over 60 venues, set in lush open grounds, close to OR Tambo International Airport, Birchwood offers a host of interesting indoor and outdoor venues and our range of creative dining options will ensure a memorable multiple-day conference - with capacities ranging between from 2 - 3000 delegates. There is simply no other venue that can provide the variety and options that Birchwood can! 17 years of experience mean Birchwood is here to make your life easier. Our on-site 665 accommodation rooms, in-house technical team, dedicated event planners, and on-site decor specialists will ensure that your conference or event expectations are always exceeded.
Accommodation
| | | |
| --- | --- | --- |
| | Single: | |
| | Double: | |
| | Suites & Other: | 10 |
| | Total | 665 |
Room Name
U-Shape
School Room
Theatre
Banquet
Acacia 1
44
72
130
80
Acacia 2
44
72
130
80
Acacia 3
40
48
100
60
Acacia Chamber
400
600
300
Acacia Suite
200
350
160
Albena
48
80
120
80
Applewood
16
36
50
Auditorium
164
Baobab
100
400
700
350
Barcelona
28
60
120
60
Breakaway Rooms x 4
20
30
45
30
Candlewood
45
130
200
110
Cape Town International
68
110
175
120
Cedarwood
28
86
140
60
Charles Du Gaulle
36
32
50
50
Cherrywood
16
36
100
Chestnut
25
30
50
30
Cypress
28
86
140
60
Garden Rooms x 4
28
70
140
60
Grand Central or Virginia
20
20
30
30
Heathrow
60
72
120
100
Heineken Boardroom (seats 10)
Johnny Walker Boardroom (seats 6)
King Shaka
110
200
340
240
Lanseria
50
40
50
40
Maplewood
32
60
100
Marco Polo
92
180
240
160
Nederburg Boardroom (seats 6)
Nessebar
18
32
45
O R Tambo 1 or 2
200
500
680
450
O R Tambo Combined
280
1000
1200
1000
Olivewood
40
70
150
Petit Boardroom (seats 10)
Prague Boardroom (seats18)
Rand Boardroom (seats 10)
Sea Point
55
70
120
60
Secretariat Boardroom (seats 12)
Silverleaf
65
180
330
180
Smirnoff Boardroom (seats 4)
Sofia
20
24
40
30
Tanglewood Boardroom (seats 12)
The Talisker Boardroom (seats 10)
Ushuaia
10
15
Varna
28
35
50
40
Wellington
14
20
40
30
Wonderboom or Waterkloof
20
20
30
30
Yellowwood
28
86
140
60
Room Name
Length
Width
Height
m²
Acacia 1
15
10
3.7
150
Acacia 2
15
10
3.7
180
Acacia 3
15
8
3.7
120
Acacia Chamber
30
15
3.77
450
Acacia Suite
20
15
3.7
300
Albena
15
8
2.5
120
Applewood
Auditorium
16
20
320
Baobab
28
22
3.5
616
Barcelona
11
12
3.9
132
Breakaway Rooms x 4
8
8
2
64
Candlewood
15
15
3.9
225
Cape Town International
15
15
4
225
Cedarwood
11
11
3.9
121
Charles Du Gaulle
11
7
3
77
Cherrywood
Chestnut
Cypress
11
11
3.9
121
Garden Rooms x 4
12
9
2
108
Grand Central or Virginia
9
5
4
45
Heathrow
12
11
3
132
Heineken Boardroom (seats 10)
Johnny Walker Boardroom (seats 6)
King Shaka
23
15
4
345
Lanseria
10
8
4
80
Maplewood
Marco Polo
20
12
3
240
Nederburg Boardroom (seats 6)
Nessebar
8
8
2.2
64
O R Tambo 1 or 2
27
25
7
675
O R Tambo Combined
54
25
7
1350
Olivewood
Petit Boardroom (seats 10)
Prague Boardroom (seats18)
Rand Boardroom (seats 10)
Sea Point
15.6
8
2.5
125
Secretariat Boardroom (seats 12)
Silverleaf
20
15
3.9
300
Smirnoff Boardroom (seats 4)
Sofia
11
5
3
55
Tanglewood Boardroom (seats 12)
The Talisker Boardroom (seats 10)
Ushuaia
7.4
4
30
Varna
10
8
2.2
80
Wellington
4
7.4
30
Wonderboom or Waterkloof
8
5
4
40
Yellowwood
11
11
3.9
121
Room Name
Controls
Dimmers
Windows
Blackout
Acacia 1
Y
Y
Y
Y
Acacia 2
Y
Y
Y
Y
Acacia 3
Y
Y
Y
Y
Acacia Chamber
Y
Y
Y
Y
Acacia Suite
Y
Y
Y
Y
Albena
Y
Y
Y
Y
Applewood
Auditorium
Y
Y
Baobab
Y
Y
Y
Y
Barcelona
Breakaway Rooms x 4
Y
Y
Y
Y
Candlewood
Y
Y
Y
Y
Cape Town International
Y
Y
Y
Y
Cedarwood
Y
Y
Y
Y
Charles Du Gaulle
Cherrywood
Chestnut
Cypress
Y
Y
Y
Y
Garden Rooms x 4
Y
Y
Y
Y
Grand Central or Virginia
Heathrow
Y
Y
Y
Y
Heineken Boardroom (seats 10)
Johnny Walker Boardroom (seats 6)
King Shaka
Y
Y
Y
Y
Lanseria
Maplewood
Marco Polo
Y
Y
Y
Y
Nederburg Boardroom (seats 6)
Nessebar
Y
Y
Y
Y
O R Tambo 1 or 2
Y
Y
Y
Y
O R Tambo Combined
Y
Y
Y
Y
Olivewood
Petit Boardroom (seats 10)
Prague Boardroom (seats18)
Rand Boardroom (seats 10)
Sea Point
Y
Y
Y
Y
Secretariat Boardroom (seats 12)
Silverleaf
Y
Smirnoff Boardroom (seats 4)
Sofia
Tanglewood Boardroom (seats 12)
The Talisker Boardroom (seats 10)
Ushuaia
Varna
Y
Y
Y
Y
Wellington
Wonderboom or Waterkloof
Yellowwood
Y
Y
Y
Y
Room Name
Power
Sockets
Door
Height
Door
Width
Screen
Height
Screen
Width
Acacia 1
4
2.3
2.2
2
3
Acacia 2
4
2.2
2.2
2
3
Acacia 3
4
2.2
2.2
2
3
Acacia Chamber
8
2.2
2.2
3.4
5
Acacia Suite
12
2.2
2.2
3.4
5
Albena
2
2.2
2.2
2.2
3
Applewood
Auditorium
2.2
2.2
2.2
3
Baobab
15
2.2
2.2
3.4
3
Barcelona
Breakaway Rooms x 4
2
2.2
2.2
2.2
3
Candlewood
8
2.2
2.2
3.4
3
Cape Town International
2.2
2.2
2
3
Cedarwood
2
2.2
2.2
2
3
Charles Du Gaulle
Cherrywood
Chestnut
Cypress
2
2.2
2.2
2
3
Garden Rooms x 4
2
2.2
2.2
2
3
Grand Central or Virginia
Heathrow
2
2.2
2.2
2
3
Heineken Boardroom (seats 10)
Johnny Walker Boardroom (seats 6)
King Shaka
2.2
2.2
2.2
3
Lanseria
2.2
2.2
Maplewood
Marco Polo
2
2.2
2.2
2
3
Nederburg Boardroom (seats 6)
Nessebar
2
2.2
2.2
2.2
2.5
O R Tambo 1 or 2
2.2
2.2
2.2
3
O R Tambo Combined
2.2
2.2
2.2
3
Olivewood
Petit Boardroom (seats 10)
Prague Boardroom (seats18)
Rand Boardroom (seats 10)
Sea Point
2
2.2
2.2
2.2
2.5
Secretariat Boardroom (seats 12)
Silverleaf
4
2.2
2.2
3.4
3
Smirnoff Boardroom (seats 4)
Sofia
Tanglewood Boardroom (seats 12)
The Talisker Boardroom (seats 10)
Ushuaia
Varna
2
2.2
2.2
2.2
3
Wellington
Wonderboom or Waterkloof
Yellowwood
2
2.2
2.2
2
3
Venue Category
Airport Hotel
Auditorium
Bed & Breakfast
Church
City Conference Venue
Corporate Facility
Day Conference Venue
Restaurant
Self Catering
Sports Club
Team Building Venue
Wedding Venue

Conference Equipment
Data Projector
Flip Chart
Lectern
Overhead Projector
Public Address System
Screens
Television/Video
Translation Facilities
Video Conferencing
White Board
WiFi/Internet

Leisure


Action Cricket
Bird Watching
Boma
Casino
Fishing
Go-karting
Golf
Gym
Hiking
Horse Riding/Safaris
Sauna
Squash
Steam Room
Swimming
Tribal Culture
Volley Ball

Travel


Airport Nearby
Car Hire
Helicopter Pad
Hotel Transport
Limousine Service
Taxi Service
Travel Reservations

Additional


Baby Sitting
Children Friendly
Disabled Friendly
Malaria Free
Satelite TV
Secure Parking