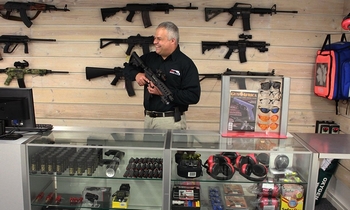 Gun Fun Indoor Shooting Range, situated in the heart of the Cape Town CBD, offers visitors and corporates an adrenalin rush as they get to shoot real firearms only seen before on the big screen.

CORPORATE AND INCENTIVE GROUPS get ready to don your flashiest tuxedo, and join us to shoot the favourite weapons of 'Secret Agent - 007'. On offer are the legendary Walther PPK, Assault Rifles and shotguns. Make your day with 'DIRTY HARRY'S' 44 Magnum revolver or take a trip back in time, to the wild west and our COWBOY PACKAGE!

For those with the future of our wildlife close to their hearts are invited to try out the AK47 - Poacher Package...Shoot a poacher target to save a Rhino!...But Beware!....If you miss the poacher you will be asked to make a donation, however big or small, to the Saving Private Rhino Initiative.

For more info follow us on Twitter and Facebook @gunfun.


Accommodation (Rooms)
| | |
| --- | --- |
| Single | |
| Double | |
| Suites & Other | |
| Total | |
Contact Information
Tel: +27 (0)21 423 0465
Fax: +27 (0)21 423 3707
info@gunfun.co.za
57 Hout Street, Cape Town, 8001
www.gunfun.co.za