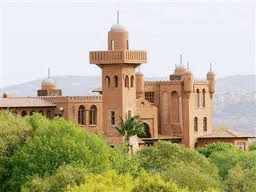 Behind every myth is at least a grain of truth - a comforting thought for someone in search of James Hilton's evasive Shangri-la. In his acclaimed novel "Lost Horizon" Hilton masterfully describes a distant and secluded hideaway of great beauty and tranquility, a remote paradise on earth, hidden in a peaceful valley surrounded by mountains, where harmony reigns, where the gods walk among the people, and where man and nature embrace. An utopian dream perhaps, or surprisingly close to reality ?
In true Oriental style, the Boutique Hotel's architecture reflects the exotic Moorish culture. All suites embody traditional Oriental sumptuousness with intricate wood carvings, smokey fireplaces and wooden balconies with valley or mountain views. Impressive ancient temple pillars and carved antique furniture and posts add enormous character to both the interior and exterior of each suite.
The 10 exclusive Suites have been designed by blending the most desirable contemporary, colonial and Moorish d?cor; from high sloping ceilings, airy verandas and carved doors to ethnic woven textiles. The eclectic plush interiors provide a true sense of place - allowing you to experience the Orient's signature blend of romance, rejuvenation and exotic sensuality in ancient splendour. A much-needed oasis of peace and tranquility.
Our staff understands the finer points of hospitality and friendliness. Indulge yourself in a lifestyle of luxury in one of our suites and the unparalleled comfort they offer. The Orient caters to the discriminating few, those whose taste demands discreet excellence, where first class service is a norm rather than an exception. We offer all the amenities for those much needed getaways, romantic escapades and corporate events. Whether you need accommodation for business or pleasure, The Orient will have the perfect solution for you...


Accommodation (Rooms)
| | |
| --- | --- |
| Single | |
| Double | |
| Suites & Other | 10 |
| Total | 10 |
Contact Information
Tel: +27 (0)12 371 2902
Fax:
mari@the-orient.net
Francolin Conservancy Elandsfontein Crocodile River Valley Pretoria
www.the-orient.net