THE FEDERAL PALACE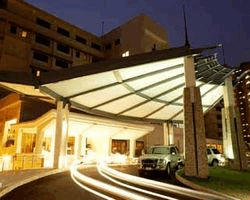 Federal Palace Hotel & Casino is situated in the commercial hub of Victoria Island in Lagos, Nigeria. The hotel overlooks the mighty Atlantic Ocean and is impeccably tailored to international corporate standards.

The Federal Palace Hotel & Casino is steeped in history, in fact, at this spectacular hotel in Lagos, Nigeria, you can conduct a boardroom meeting within the very same walls that witnessed the signing of Nigeria's Independence Declaration in 1960. Guests may also manage daily business affairs in the luxurious convenience of one of The Federal Palace Hotel's 7 boardrooms or the executive Business Centre.

The Federal Palace Hotel caters for the discerning corporate traveller who values consistency in excellence and who wants to align their company with only the best of everything, including the hotel in which they stay.
Accommodation
| | | |
| --- | --- | --- |
| | Single: | |
| | Double: | |
| | Suites & Other: | |
| | Total | 140 |
Contact Information
Bookings:
+27 (0)11 781-4800
Fax:
086 670 0851
6 - 8 Ahmadu Bello Way Victoria Islan Lagos Nigeria
Room Name
U-Shape
School Room
Theatre
Banquet
External Ballroom
96
300
500
Meeting Room 1 (10 Seater)
Meeting Room 2 (10 Seater)
Meeting Room 3 (10 Seater)
Meeting Room 4 (10 Seater)
Meeting Room 5 (10 Seater)
Meeting Room 6 (10 Seater)
Meeting Room 7 (15 Seater)
Room Name
Length
Width
Height
m²
External Ballroom
700
Meeting Room 1 (10 Seater)
24
Meeting Room 2 (10 Seater)
24
Meeting Room 3 (10 Seater)
24
Meeting Room 4 (10 Seater)
24
Meeting Room 5 (10 Seater)
24
Meeting Room 6 (10 Seater)
24
Meeting Room 7 (15 Seater)
24
Room Name
Controls
Dimmers
Windows
Blackout
External Ballroom
Meeting Room 1 (10 Seater)
Meeting Room 2 (10 Seater)
Meeting Room 3 (10 Seater)
Meeting Room 4 (10 Seater)
Meeting Room 5 (10 Seater)
Meeting Room 6 (10 Seater)
Meeting Room 7 (15 Seater)
Room Name
Power
Sockets
Door
Height
Door
Width
Screen
Height
Screen
Width
External Ballroom
Meeting Room 1 (10 Seater)
Meeting Room 2 (10 Seater)
Meeting Room 3 (10 Seater)
Meeting Room 4 (10 Seater)
Meeting Room 5 (10 Seater)
Meeting Room 6 (10 Seater)
Meeting Room 7 (15 Seater)
Conference Equipment
Data Projector
Flip Chart
Lectern
Public Address System
White Board
WiFi/Internet