EMOYENI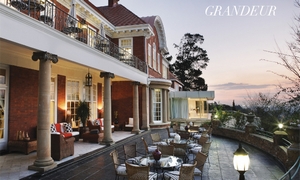 On the highest point of the highest ridge in Parktown sits Emoyeni. Offering sweeping, panoramic views over the forest of the Northern Suburbs of Johannesburg and all the way to the Magaliesberg.

Built in 1905 for the Honourable Henry Hull, this Edwardian-era masterpiece hosted lavish parties for the Randlords of the day.

Emoyeni offers private, multi-functioned rooms and facilities, perfect for a wide variety of different events such as conferences, corporate meetings, year-end functions, weddings and any private occasions.
Accommodation
| | | |
| --- | --- | --- |
| | Single: | |
| | Double: | |
| | Suites & Other: | |
| | Total | |
Contact Information
Tel:
+27 (0)11 544 6900
Fax:
+27 (0)11 484 2346
info@emoyenite.co.za
15 Jubilee Road, Parktown, 2193
Seating Capacities
Room Name
U-Shape
School Room
Theatre
Banquet
The Dining Room
30
The Drawing Room
30
40
70
40
The Great Chamber
25
25
35
30
The Library (B/Room 12)
15
The Meeting Room
15
20
25
20
The Parlour (B/Room 10)
10
The Pavilion
40
90
100
100
The State Room (B/Room 10)
12
Room Dimensions & Area
Room Name
Length
Width
Height
m²
The Dining Room
9
6
3.9
54
The Drawing Room
7.9
8.1
3.9
64
The Great Chamber
4.5
5
3.7
22.5
The Library (B/Room 12)
5.2
8.7
3.5
45.2
The Meeting Room
6.1
3.9
3.2
23.8
The Parlour (B/Room 10)
6
4
4
24
The Pavilion
7.6
13.5
2.7
102.6
The State Room (B/Room 10)
3.9
9.9
3.5
38.6
Lighting Facilities
Room Name
Controls
Dimmers
Windows
Blackout
The Dining Room
Y
Y
The Drawing Room
Y
Y
The Great Chamber
Y
Y
The Library (B/Room 12)
Y
Y
The Meeting Room
Y
Y
The Parlour (B/Room 10)
Y
Y
The Pavilion
Y
Y
Y
The State Room (B/Room 10)
Y
Y
Power, Doors & Screens
Room Name
Power
Sockets
Door
Height
Door
Width
Screen
Height
Screen
Width
The Dining Room
8
2.1
1.6
The Drawing Room
3
1.9
0.8
2.3
2.8
The Great Chamber
6
2.1
0.86
2.6
1.9
The Library (B/Room 12)
4
2
0.85
2.1
2.2
The Meeting Room
7
2.1
0.85
0.62
1.2
The Parlour (B/Room 10)
3
2
0.85
0.62
1.2
The Pavilion
8
1.9
0.8
2.6
2.8
The State Room (B/Room 10)
9
2.1
0.85
0.62
1.2
Venue Category
City Conference Venue
Day Conference Venue
Function Venue
Restaurant
Wedding Venue

Conference Equipment
Data Projector
Flip Chart
Overhead Projector
Public Address System
Screens
Television/Video
White Board
WiFi/Internet

Additional


Disabled Friendly
Exhibition Area
Secure Parking
Special Equipment Entrance