ARUSHA INTERNATIONAL CONFERENCE CENTRE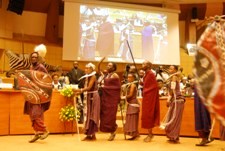 The Centre has various conference halls & rooms to cater for conferences, workshops, seminars, and committee meetings varying from 10 to 1,350 delegates.

Most of these rooms are equipped with Simultaneous Interpretation Systems (SIS) of up to four (4) languages. Audio-Visual equipment is also provided, along with exhibition areas, document reproduction services and catering.
Arusha International Conference Centre lies in the heart of Arusha city which is the safari base of the world renowned 'Northern tourist circuit' that includes Mount Kilimanjaro, Mount. Meru, Serengeti National park, Lake Manyara National park, the Ngorongoro crater (commonly known as the eighth wonder of the world), Tarangire national park, Arusha national park to mention just a few.
Accommodation
| | | |
| --- | --- | --- |
| | Single: | |
| | Double: | |
| | Suites & Other: | |
| | Total | |
Seating Capacities
Room Name
U-Shape
School Room
Theatre
Banquet
DIKDIK (NGORONGORO BLOCK)
30
KAGERA (NGORONGORO BLOCK)
20
MANYARA (NGORONGORO BLOCK)
50
MBAYUWAYU (NGORONGORO BLOCK)
300
MBUNI (NGORONGORO BLOCK)
20
SIMBA PLENARY HALL
1000
TAUSI (SERENGETI BLOCK)
160
THEMI (NGORONGORO BLOCK)
40
TWIGA (NGORONGORO BLOCK)
60
Room Dimensions & Area
Room Name
Length
Width
Height
m²
DIKDIK (NGORONGORO BLOCK)
68.34
KAGERA (NGORONGORO BLOCK)
46.08
MANYARA (NGORONGORO BLOCK)
113
MBAYUWAYU (NGORONGORO BLOCK)
402.5
MBUNI (NGORONGORO BLOCK)
46.08
SIMBA PLENARY HALL
1018
TAUSI (SERENGETI BLOCK)
230
THEMI (NGORONGORO BLOCK)
68.16
TWIGA (NGORONGORO BLOCK)
113
Lighting Facilities
Room Name
Controls
Dimmers
Windows
Blackout
DIKDIK (NGORONGORO BLOCK)
KAGERA (NGORONGORO BLOCK)
MANYARA (NGORONGORO BLOCK)
MBAYUWAYU (NGORONGORO BLOCK)
MBUNI (NGORONGORO BLOCK)
SIMBA PLENARY HALL
TAUSI (SERENGETI BLOCK)
THEMI (NGORONGORO BLOCK)
TWIGA (NGORONGORO BLOCK)
Power, Doors & Screens
Room Name
Power
Sockets
Door
Height
Door
Width
Screen
Height
Screen
Width
DIKDIK (NGORONGORO BLOCK)
KAGERA (NGORONGORO BLOCK)
MANYARA (NGORONGORO BLOCK)
MBAYUWAYU (NGORONGORO BLOCK)
MBUNI (NGORONGORO BLOCK)
SIMBA PLENARY HALL
TAUSI (SERENGETI BLOCK)
THEMI (NGORONGORO BLOCK)
TWIGA (NGORONGORO BLOCK)