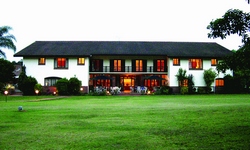 The picturesque Wartburger Hof Hotel is ideally located 30km from Pietermaritzburg and one hour from Durban in the sugar belt of the Natal Midlands.

The fully equipped and air-conditioned conference room can seat up to 85 delegates cinema style and the boardroom has private bar facilities.

Wartburger Hof offers various dining options from the unique tavern in the cellar offering pub meals, the formal a la carte dining room and the 'Weinstube" with its rustic atmosphere. This unique alpine, chalet-style hotel is well known for its superb hospitality and is the perfect setting for an intimate conference, business trip or as a base from which to explore the surrounding area.