CONSTITUTION HILL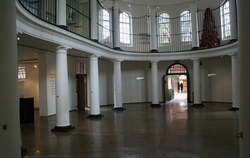 Constitution Hill is a unique Multi purpose development in the Inner City of Johannesburg, a National and International Heritage Site and the home of the Constitutional Court, the protector of our basic rights and freedoms. Conveniently located on the border of Braamfontein and Hillbrow.

Constitution Hill is also the site of Johannesburg's notorious Old Fort Prison Complex, commonly known as Number Four, where thousands of ordinary people were brutally punished before the dawn of democracy in 1994. Many of South Africa's leading political activists, including Mahatma Gandhi and Nelson Mandela, were detained here.

In addition to the permanent exhibitions, interactive experiences and educational programmes, Constitution Hill offers a full calendar of public programmes and exhibitions that bring the site to life and enable the public to connect with the activities of the Constitutional Court.
Accommodation
| | | |
| --- | --- | --- |
| | Single: | |
| | Double: | |
| | Suites & Other: | |
| | Total | |
Room Name
U-Shape
School Room
Theatre
Banquet
Constitution Square-Outdoors
2400
2000
Constitutional Boardroom-15
Democracy Boardroom-12
Human Rights Conference Centre
45
72
90
80
Old Fort Parade Ground-Outdoors
1150
910
Slovo Courtyard-Outdoors
300
300
Women's Gaol Atrium
50
50
100
50
Women's Gaol Fatima Meer-Outdoors
510
350
Women's Gaol Laundry Courtyard-Outdoors
500
450
Women's Gaol Lekgotla
45
36
50
30
Women's Gaol Winnie Mandela-Outdoors
1000
860
Room Name
Length
Width
Height
m²
Constitution Square-Outdoors
62
37
2294
Constitutional Boardroom-15
7
5.5
39
Democracy Boardroom-12
6
5.5
33
Human Rights Conference Centre
9
10
90
Old Fort Parade Ground-Outdoors
29
35
1015
Slovo Courtyard-Outdoors
9.5
36
340
Women's Gaol Atrium
12.5
14
175
Women's Gaol Fatima Meer-Outdoors
27
18
486
Women's Gaol Laundry Courtyard-Outdoors
32
16
512
Women's Gaol Lekgotla
12
7
90
Women's Gaol Winnie Mandela-Outdoors
40
24
960
Room Name
Controls
Dimmers
Windows
Blackout
Constitution Square-Outdoors
Constitutional Boardroom-15
Y
Y
Y
Democracy Boardroom-12
Y
Y
Y
Human Rights Conference Centre
Y
Y
Y
Y
Old Fort Parade Ground-Outdoors
Slovo Courtyard-Outdoors
Women's Gaol Atrium
Women's Gaol Fatima Meer-Outdoors
Women's Gaol Laundry Courtyard-Outdoors
Y
Women's Gaol Lekgotla
Y
Women's Gaol Winnie Mandela-Outdoors
Room Name
Power
Sockets
Door
Height
Door
Width
Screen
Height
Screen
Width
Constitution Square-Outdoors
3
Constitutional Boardroom-15
7
Democracy Boardroom-12
7
Human Rights Conference Centre
6
Old Fort Parade Ground-Outdoors
1
Slovo Courtyard-Outdoors
1
Women's Gaol Atrium
4
Women's Gaol Fatima Meer-Outdoors
Women's Gaol Laundry Courtyard-Outdoors
Women's Gaol Lekgotla
2
Women's Gaol Winnie Mandela-Outdoors
Venue Category
City Conference Venue
Day Conference Venue
Restaurant

Conference Equipment
Data Projector
Flip Chart
Public Address System
Screens
White Board

Additional


BEE Compliant
Children Friendly
Disabled Friendly
Exhibition Area
Malaria Free
Secure Parking