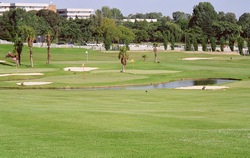 World of Golf was designed to give golf enthusiasts a place to practice every shot imaginable in a fun and friendly environment.


The Vodacom World of Golf contains all the essential elements needed for a golfer to practice their entire repertoire of shots under various conditions thereby enhancing and elevating a normally 'routine' outing to one of 'virtual reality'.


Hold your next meeting/conference in an environment that will stimulate those who haven't even discovered the joys of golf. Ideal for corporate events, launches, private functions and corporate breakfasts. We also offer some unique team building activities and 'fun' activites.


YOUR ALL-IN-ONE FUNCTION, EVENT AND CORPORATE VENUE.