CAPE TOWN INTERNATIONAL CONVENTION CENTRE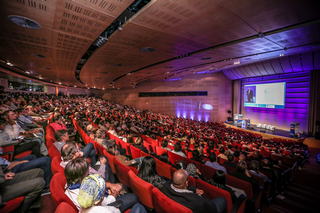 The Cape Town International Convention Centre is the leading venue for conferences, exhibitions and business events on the African continent.

The CTICC boasts two state-of-the-art buildings, CTICC 1 and 2. Facilities include 21 400m2 of multipurpose conference and exhibition space; two raked auditoria seating 1 516 and 612 delegates respectively; two terrace rooms for up to 330 and 450 delegates; 47 breakout rooms accommodating between 20 and 370 delegates and versatile banqueting rooms including a 2 000m2 grand ballroom. More importantly the CTICC's highly professional and friendly staff will ensure that your event is seamlessly delivered and one that your delegates will not forget.
Accommodation
| | | |
| --- | --- | --- |
| | Single: | |
| | Double: | |
| | Suites & Other: | |
| | Total | 483 |
Contact Information
Tel:
+27 21 410 5000
Fax:
+27 21 410 5001
info@cticc.co.za
CTICC 1: Convention Square, 1 Lower Long Street, Cape Town CTICC 2: Corner of Heerengracht & Rua Bartholomeu Dias, Foreshore, Cape Town
Room Name
U-Shape
School Room
Theatre
Banquet
Auditorium I
1500
1500
Auditorium Foyer (Cocktail x 650)
Auditorium II
620
620
Ballroom-East
790
1080
740
Ballroom-Full
1296
1980
1300
Ballroom-West
528
840
540
Boardroom (seats 20)
Exhibition Hall 1 A
770
1000
800
Exhibition Hall 1 B
730
950
750
Exhibition Hall 2
1500
2000
1600
Exhibition Hall 3
1690
2200
1800
Exhibition Hall 4A
1850
2400
2000
Exhibition Hall 4B
770
1000
800
Full Exhibition Centre (Hall 1 - 4)
7720
9500
6100
Meeting Room 2.40 0r 2.60
69
220
330
220
Meeting Room I.40 or 1.60
69
220
330
220
Meeting Rooms (x12)
18
24
30
Meeting Rooms (x8)
24
30
60
50
Meeting Suites (x3)
15
18
24
Meeting Suites (x4)
15
18
24
Meeting Suites (x5)
15
18
24
Registration Foyer
100
200
300
120
Roof Terrace
69
220
380
190
Room Name
Length
Width
Height
m²
Auditorium I
47
16
1170
Auditorium Foyer (Cocktail x 650)
13.6
40
3.5
700
Auditorium II
31
15.8
8
490
Ballroom-East
38
28
8
1064
Ballroom-Full
67
28
8
1876
Ballroom-West
29
28
8
812
Boardroom (seats 20)
9.3
7.9
3.3
73
Exhibition Hall 1 A
34.5
29.9
18
1032
Exhibition Hall 1 B
34.5
28.9
18
997
Exhibition Hall 2
33.3
63.6
18
2118
Exhibition Hall 3
33.3
67.8
18
2258
Exhibition Hall 4A
41.7
71.5
18
2982
Exhibition Hall 4B
18.1
70
9
1267
Full Exhibition Centre (Hall 1 - 4)
167
71.5
18
11399
Meeting Room 2.40 0r 2.60
23.4
16
4
375
Meeting Room I.40 or 1.60
23.4
16
4
375
Meeting Rooms (x12)
9.4
5.4
4
50
Meeting Rooms (x8)
9.4
8
4
75
Meeting Suites (x3)
7.9
4.5
3.3
35
Meeting Suites (x4)
7.9
4.5
3.3
35
Meeting Suites (x5)
7.9
4.5
3.3
35
Registration Foyer
21
15
4
315
Roof Terrace
25
14.8
4.2
370
Room Name
Controls
Dimmers
Windows
Blackout
Auditorium I
Y
Y
Y
Auditorium Foyer (Cocktail x 650)
Auditorium II
Y
Y
Y
Ballroom-East
Ballroom-Full
Y
Y
Y
Y
Ballroom-West
Boardroom (seats 20)
Y
Y
Y
Y
Exhibition Hall 1 A
Y
Y
Y
Exhibition Hall 1 B
Y
Y
Y
Exhibition Hall 2
Y
Y
Y
Exhibition Hall 3
Y
Y
Y
Exhibition Hall 4A
Y
Y
Y
Exhibition Hall 4B
Full Exhibition Centre (Hall 1 - 4)
Y
Y
Y
Meeting Room 2.40 0r 2.60
Y
Y
Y
Y
Meeting Room I.40 or 1.60
Y
Y
Y
Y
Meeting Rooms (x12)
Y
Y
Y
Y
Meeting Rooms (x8)
Y
Y
Y
Y
Meeting Suites (x3)
Y
Y
Y
Y
Meeting Suites (x4)
Y
Y
Y
Y
Meeting Suites (x5)
Y
Y
Y
Y
Registration Foyer
Roof Terrace
Y
Y
Y
Y
Room Name
Power
Sockets
Door
Height
Door
Width
Screen
Height
Screen
Width
Auditorium I
Auditorium Foyer (Cocktail x 650)
Auditorium II
Ballroom-East
Ballroom-Full
Ballroom-West
Boardroom (seats 20)
Exhibition Hall 1 A
Exhibition Hall 1 B
Exhibition Hall 2
Exhibition Hall 3
Exhibition Hall 4A
Exhibition Hall 4B
Full Exhibition Centre (Hall 1 - 4)
Meeting Room 2.40 0r 2.60
Meeting Room I.40 or 1.60
Meeting Rooms (x12)
Meeting Rooms (x8)
Meeting Suites (x3)
Meeting Suites (x4)
Meeting Suites (x5)
Registration Foyer
Roof Terrace
Venue Category
Auditorium
City Conference Venue
Coastal Venue
Corporate Facility
Day Conference Venue
Expo Centre
Restaurant
Team Building Venue
Theatre

Conference Equipment
Audio Equipment
Data Projector
Flip Chart
Lectern
Overhead Projector
Public Address System
Screens
Television/Video
Translation Facilities
Video Conferencing
White Board
WiFi/Internet

Travel


Airport Nearby
Car Hire
Limousine Service

Additional


BEE Compliant
Children Friendly
Disabled Friendly
Exhibition Area
Malaria Free
Power Generator
Secure Parking
Special Equipment Entrance