DURBAN INTERNATIONAL CONVENTION CENTRE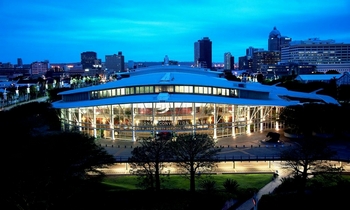 This world-class facility, renowned for its high standards of service excellence, has successfully staged some the world's most prestigious and complex events. This multi-award winning Centre has been voted "Africa's Leading Meetings and Conference Centre" by the World Travel Awards no fewer than 17 times in 19 years and has been rated amongst the World's Top 17 convention centres by AIPC.

The Durban ICC offers you the largest flat floor, column-free multi-purpose event space in Africa. Incorporating the Durban ICC Arena and Durban Exhibition Centre, the complex offers you 112,000 square meters of flexible exhibition and meeting space. Service excellence is the heart-beat of the Durban ICC team and this commitment to quality is expressed through its five-star grading by the Tourism Grading Council of South Africa and its several international ISO Certifications. The Centre maintains its ISO9001 certification for Quality Management in its operational systems, ISO14001 for its Environmental Responsibility, OHSAS18001 for Health & Safety and its ISO22000 certification ensures the highest standards of Food Safety.

The Centre is fully Wi-Fi enabled and connectivity is complimentary to its delegates and guests. The Centre is located 30-minutes from the King Shaka International Airport and over 3,600 Hotel rooms are within a 10-minute walk of the Centre.
Accommodation
| | | |
| --- | --- | --- |
| | Single: | |
| | Double: | |
| | Suites & Other: | |
| | Total | |
Contact Information
Tel:
+27 (0)31 360 1000
Fax:
+27 (0)31 360 1005
sales@icc.co.za
45 Bram Fischer Road, Durban, 4001
Room Name
U-Shape
School Room
Theatre
Banquet
Hall 1
750
1680
500
Hall 1A / 1B
300
840
250
Hall 2
1350
2500
1120
Hall 2BH/2C
330
500
220
Hall 3
1320
1800
1000
Hall 3A
820
1250
630
Hall 4
960
1400
640
Hall 5
950
1400
600
Hall 5AB / 5CD
450
650
350
Hall 6
230
300
160
Meeting Room 11/12
150
280
200
Meeting Room 21/22
170
300
200
Room Name
Length
Width
Height
m²
Hall 1
32
46
10
1448
Hall 1A / 1B
32
23
10
724
Hall 2
60
46
10
2760
Hall 2BH/2C
30
23
10
690
Hall 3
51
46
10
2346
Hall 3A
32
46
10
1472
Hall 4
37
44
12
1628
Hall 5
46
36
12
1656
Hall 5AB / 5CD
23
36
12
828
Hall 6
17
36
12
612
Meeting Room 11/12
24
16
2.6
402
Meeting Room 21/22
24
16
2.6
393
Room Name
Controls
Dimmers
Windows
Blackout
Hall 1
Y
Y
Hall 1A / 1B
Y
Y
Hall 2
Y
Y
Y
Hall 2BH/2C
Y
Y
Y
Hall 3
Y
Y
Y
Hall 3A
Y
Y
Y
Hall 4
Y
Y
Y
Hall 5
Y
Y
Y
Hall 5AB / 5CD
Y
Y
Y
Hall 6
Y
Y
Y
Meeting Room 11/12
Y
Y
Y
Y
Meeting Room 21/22
Y
Y
Y
Y
Room Name
Power
Sockets
Door
Height
Door
Width
Screen
Height
Screen
Width
Hall 1
76
5.2
7.3
6
11
Hall 1A / 1B
38
5.2
7.3
4
6
Hall 2
160
5.2
7.3
6
11
Hall 2BH/2C
40
5.2
7.3
4
6
Hall 3
132
5.2
7.3
6
11
Hall 3A
84
5.2
7.3
4
6
Hall 4
112
5.2
7.3
6
11
Hall 5
84
5.2
7.3
6
11
Hall 5AB / 5CD
48
5.2
7.3
4
6
Hall 6
32
5.2
7.3
4
6
Meeting Room 11/12
18
2.4
1.4
1.5
2
Meeting Room 21/22
18
2.4
1.4
1.5
2
Venue Category
Auditorium
City Conference Venue
Coastal Venue
Day Conference Venue
Expo Centre

Conference Equipment
Audio Equipment
Data Projector
Flip Chart
Lectern
Overhead Projector
Public Address System
Screens
Television/Video
Translation Facilities
Video Conferencing
White Board
WiFi/Internet

Leisure


Beach
Casino
Golf
Hydro/Spa/Wellness Centre
Sailing

Travel


Airport Nearby
Car Hire
Helicopter Pad
Hotel Transport
Limousine Service

Additional


Baby Sitting
Children Friendly
Disabled Friendly
Exhibition Area
Malaria Free
Secure Parking
Special Equipment Entrance