SAINT GEORGE HOTEL & GAUTENG CONVENTION CENTRE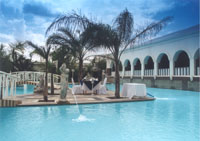 It is with great pride that we introduce you to the Saint George Hotel and Convention Centre. The estate is a Mediterranean-style complex, ideally situated 20 minutes from O.R. Tambo International Airport and the historic city of Pretoria.

Magnificent, lush gardens surround statuesque buildings with elegant arches and plush marble. The exquisite reception area, extensive patios, include 300 luxurious bedrooms, and memorable cuisine make the Saint George Hotel a unique experience.

Our conference and function facilities have made us an up market venue able to cater for your every need. The complex has 32 conference and break away rooms. The venues range from intimate rooms that accommodate 10 delegates and venues that comfortably seat 2000 delegates. Our pride and joy is the Acropolis building where the Parthenon hall can accommodate up to 1000 delegates with safe and secure parking. Our conference package includes three tea/coffee breaks and a buffet lunch. The conference facilities offer all the basic equipment and arrangements can be made to hire in any additional equipment required.
Accommodation
| | | |
| --- | --- | --- |
| | Single: | 121 |
| | Double: | |
| | Suites & Other: | 19 |
| | Total | 300 |
Contact Information
Tel:
+27 (0)11 316 1254
Fax:
+27 (0)11 316 5542
info@stgeorge.co.za
58 Goede Hoop Avenue, M57 Rietvleidam
Seating Capacities
Room Name
U-Shape
School Room
Theatre
Banquet
Acro
10
20
30
Acropolis 1
100
120
170
100
Acropolis 2, 4, & 5
50
60
60
Acropolis 3
40
60
60
Acropolis 6, 7, & 8
30
35
50
Asteria
800
1000
650
Athena
25
30
60
Calamata
25
30
60
Crystal
25
30
40
Diamond
20
30
40
Dorian 1
140
180
300
Dorian 2
50
60
100
Dorian 3
30
40
60
Dorian 4,5,6
20
30
40
Ionic
70
80
100
Laconia
150
Lions Arch
500
700
Marble Arch
400
2000
1700
Marble Arch 2
1400
1600
Olympia
120
Omonia
25
30
40
Parthenon
300
1000
1500
Ruby
25
30
40
Saint George
100
150
180
160
Salonica
250
400
300
Salonica 2
60
50
120
Silver
30
70
Spartan
240
420
550
Spartan 2,3,4
25
50
65
Room Dimensions & Area
Room Name
Length
Width
Height
m²
Acro
9
6
2
54
Acropolis 1
13
6
3.5
78
Acropolis 2, 4, & 5
12
8
3.5
96
Acropolis 3
12
8
3.5
96
Acropolis 6, 7, & 8
9
8
3.5
72
Asteria
52
31
5
1612
Athena
12
7.5
4
90
Calamata
12
7.5
4
90
Crystal
14
5
2.4
70
Diamond
11.5
4.5
2.3
52
Dorian 1
21.3
14.8
4.3
316
Dorian 2
Dorian 3
Dorian 4,5,6
Ionic
20
11
3.5
220
Laconia
22
16
2.5
352
Lions Arch
Marble Arch
72
36
6
2600
Marble Arch 2
Olympia
16
13
5
208
Omonia
13
5
4
65
Parthenon
35
37
4
1295
Ruby
14
5
2
70
Saint George
20.6
12.95
4
267
Salonica
21
27
6
567
Salonica 2
17
9
2.5
153
Silver
20
9
2.1
180
Spartan
Spartan 2,3,4
Lighting Facilities
Room Name
Controls&nbsp
Dimmers&nbsp
Windows&nbsp
Blackout&nbsp
Acro
Acropolis 1
Y
Y
Acropolis 2, 4, & 5
Y
Y
Acropolis 3
Y
Acropolis 6, 7, & 8
Y
Y
Asteria
Y
Athena
Y
Y
Calamata
Y
Y
Crystal
Y
Y
Diamond
Y
Y
Dorian 1
Y
Y
Dorian 2
Y
Y
Y
Dorian 3
Y
Y
Dorian 4,5,6
Y
Y
Ionic
Y
Y
Laconia
Y
Y
Lions Arch
Y
Y
Marble Arch
Y
Y
Y
Marble Arch 2
Y
Y
Olympia
Omonia
Y
Y
Parthenon
Y
Y
Ruby
Y
Y
Y
Saint George
Y
Y
Salonica
Y
Y
Y
Salonica 2
Y
Y
Silver
Y
Spartan
Y
Spartan 2,3,4
Power, Doors & Screens
Room Name
Power
Sockets
Door
Height
Door
Width
Screen
Height
Screen
Width
Acro
Acropolis 1
4
2
1.5
24
1.8
Acropolis 2, 4, & 5
4
2
1.5
24
2.4
Acropolis 3
4
2
1.5
24
2.4
Acropolis 6, 7, & 8
3
2
1.5
24
2.4
Asteria
4
2
1.5
24
1.8
Athena
16
2
3
Calamata
2
2
1.5
24
1.8
Crystal
2
2
1.5
24
1.8
Diamond
2
2
1.5
24
1.8
Dorian 1
2
2
2
24
1.8
Dorian 2
6
2
2
3
3
Dorian 3
4
2
1.5
24
1.8
Dorian 4,5,6
2
2
1.5
24
1.8
Ionic
2
2
1.5
24
1.8
Laconia
6
2
2.2
24
2.4
Lions Arch
2
Marble Arch
12
2
3
Marble Arch 2
60
2
2
3
3
Olympia
Omonia
4
2
1.5
Parthenon
2
2
1.5
24
1.8
Ruby
32
2
3
30
2.8
Saint George
4
2
1.5
24
1.8
Salonica
6
2
2
3
3
Salonica 2
6
2
4
Silver
4
2
1.5
Spartan
4
2
1.5
Spartan 2,3,4
Venue Category
Church
Country Venue
Day Conference Venue
Expo Centre
Function Venue
Restaurant
Team Building Venue
Wedding Venue

Conference Equipment
Flip Chart
Overhead Projector
Public Address System
Screens
Television/Video
Translation Facilities
Video Conferencing
White Board
WiFi/Internet

Leisure


4x4 Adventure / Course
Action Cricket
Balloon Safaris
Beauty Therapy
Big Five
Bird Watching
Boma
Bowls
Breweries
Bungee Jumping
Casino
Deep Sea Diving
Fishing
Game Capture
Game Drives
Game Walks
Go-karting
Golf
Gym
Hiking
Horse Riding/Safaris
Houseboats
Hunting
Hydro/Spa/Wellness Centre
Mountain Biking
Sailing
Sauna
Scuba Diving
Skiing
Snorkeling
Squash
Sundown Cruise
Swimming
Tennis
Volley Ball
White River Rafting
Wine Tasting

Travel


Airport Nearby
Car Hire
Helicopter Pad
Hotel Transport
Limousine Service
Travel Reservations

Additional


Baby Sitting
BEE Compliant
Children Friendly
Disabled Friendly
Exhibition Area
Malaria Free
Secure Parking
Special Equipment Entrance