INTERCONTINENTAL JOHANNESBURG O.R. TAMBO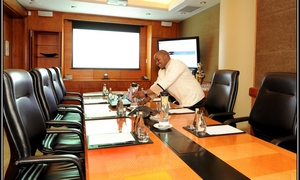 South Africa's first and only luxury hotel at an airport, the InterContinental Johannesburg O.R. Tambo Airport is situated within only 68.7 metres walking distance from the International Arrivals hall. This 138-room hotel ideally meets the needs of the discerning business traveler, providing the ultimate in world-class comfort and personalized service.

Conferencing facilities comprises of 10 meeting rooms that can accommodate 1 to 100 people over two levels of the hotel. The Ground floor conference centre accommodates the largest meeting rooms in addition to smaller breakaway rooms. The Okavango venue is an ideal cocktail or dinner venue and overlooks a small city garden.

The Mezzanine floor offers 3 Executive Boardrooms with the St Lucia room already set up with state of the art, multipoint video conferencing. All meeting rooms on this level offer abundant natural light, and are equipped with data projector and sound facilities. Free WiFi available for Hotel and Conference guests.
Accommodation
| | | |
| --- | --- | --- |
| | Single: | 116 |
| | Double: | 20 |
| | Suites & Other: | 2 |
| | Total | 138 |
Contact Information
Tel:
+27 (0)11 961 5400
Fax:
+27 (0)11 961 5476
meetings@icairport.com
68,7 metres from International Arrivals Hall O.R. Tambo International Airport
Seating Capacities
Room Name
U-Shape
School Room
Theatre
Banquet
Etosha (B/Room 8)
Kafue (B/Room 8)
Kalahari
36
30
Karoo
15
18
30
20
Okavango
41
48
84
50
Savuti
36
48
80
70
Savuti East or West
9
18
32
20
St Lucia (B/Room 12)
Timbavati (B/Room 10)
Umfolozi (B/Room 12)
Room Dimensions & Area
Room Name
Length
Width
Height
m²
Etosha (B/Room 8)
4.7
4.8
2.4
22.2
Kafue (B/Room 8)
6.6
5.7
2.5
33
Kalahari
3.8
12.2
2.6
43.2
Karoo
4.7
7.5
2.6
35
Okavango
15.4
12
2.5
114
Savuti
8.4
11.6
2.7
80.8
Savuti East or West
5.7
5.7
2.6
32
St Lucia (B/Room 12)
3.9
7
2.6
26.8
Timbavati (B/Room 10)
6.6
3.8
2.6
23.8
Umfolozi (B/Room 12)
7.6
3.8
2.6
27.6
Lighting Facilities
Room Name
Controls
Dimmers
Windows
Blackout
Etosha (B/Room 8)
Kafue (B/Room 8)
Kalahari
Y
Y
Y
Y
Karoo
Y
Y
Y
Y
Okavango
Y
Y
Y
Y
Savuti
Savuti East or West
St Lucia (B/Room 12)
Y
Y
Y
Y
Timbavati (B/Room 10)
Y
Y
Y
Y
Umfolozi (B/Room 12)
Y
Y
Y
Y
Power, Doors & Screens
Room Name
Power
Sockets
Door
Height
Door
Width
Screen
Height
Screen
Width
Etosha (B/Room 8)
1
2.4
1.5
Kafue (B/Room 8)
1
2.4
1.5
Kalahari
2
2.3
1.6
1.7
1.8
Karoo
2
2.3
1.6
1.7
1.8
Okavango
6
2.4
2.5
Savuti
8
2.4
1.5
Savuti East or West
2.4
1.5
St Lucia (B/Room 12)
3
2.3
1.6
Timbavati (B/Room 10)
3
2.3
1.6
1.7
1.8
Umfolozi (B/Room 12)
3
2.3
1.6
1.7
1.8
Venue Category
Airport Hotel
City Conference Venue
City Hotel
Day Conference Venue
Restaurant

Conference Equipment
Data Projector
Flip Chart
Public Address System
Screens
Television/Video
Translation Facilities
Video Conferencing
White Board
WiFi/Internet

Leisure


Action Cricket
Big Five
Casino
Golf
Gym
Squash
Swimming
Tennis
Volley Ball

Travel


Airport Nearby
Airstrip
Car Hire
Helicopter Pad
Hotel Transport
Limousine Service

Additional


Baby Sitting
BEE Compliant
Disabled Friendly
Malaria Free
Power Generator
Satelite TV
Secure Parking